---

Volume 1
---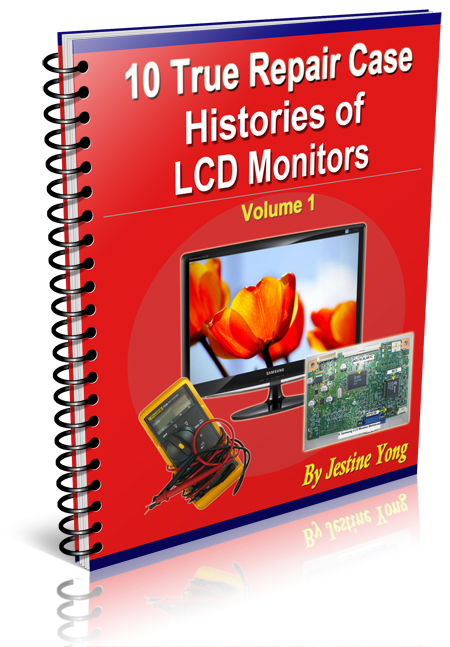 This guide is a compilation of 10 actual repair cases of LCD Monitors. In this guide you will be able to see the actual steps that I have used to solve LCD Monitor problems. You will also know at where I bought the LCD Monitor spare part for replacement. This guide consist of over 50 pages of solid repair information and it comes with more than 80 photos to remove all the guess work. This ebook is great for anyone trying to find a quick repair tip for LCD monitors.
If you have not read any of my repair article before then let me show to you one of my repair articles in solving dim display in a 19" LCD Monitor. Please click below to read the article: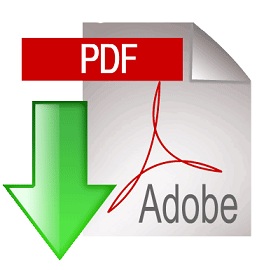 Click HERE to read the article
Having this repair guide will help shortcut your learning curve and surely increase your repair rate and thus bringing in more profit for you.

Imagine being able to repair many different types of LCD Monitors, and make enough money.This is all possible when you have the knowledge in repairing LCD Monitors. That's exactly what I'm going to teach you. What is the best part? Most of those repair techniques are quite easy to follow and understand.
Below is the content of the Ebook:
1. No Power in Acer V203H 20" LCD Monitor

2. No Power in Dell 19"X 193W LCD Monitor

3. No Power In Dell 19" E198WFPF LCD Monitor

4. No Power in HP 2009F 20" LCD Monitor

5. No Power in Viewsonic VA1901WM 19" LCD Monitor

6. White Display In Acer 17" AL1717A LCD Monitor

7. Display Shutdown After Few Minutes In HP L1706 17" LCD Monitor

8. Display Shutdown After Few Seconds In Samsung 22" 2233sw LCD

9. Power Blinks and Key Locked Problem in Dell E173fpb LCD Monitor

10. Missing OSD Menu in Benq 19" Q9W LCD Monitor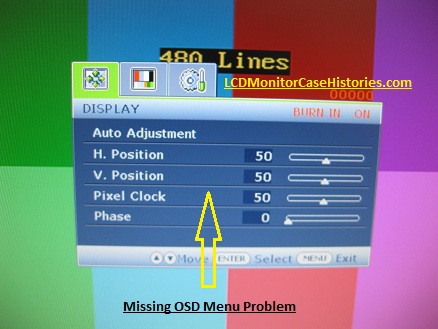 Here's a preview of some pages from the 10 True Repair Case Histories Of LCD Monitors Ebook!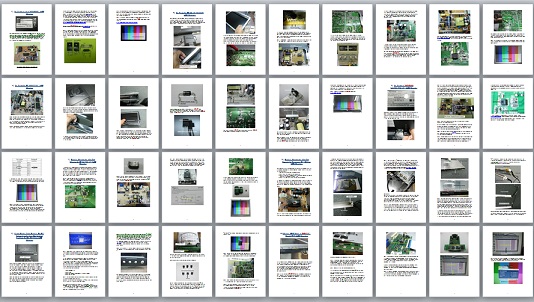 Testimonials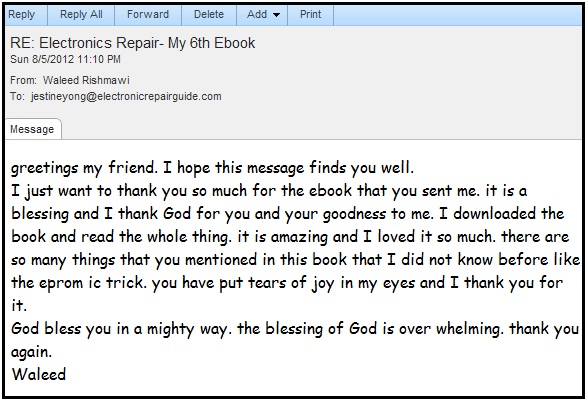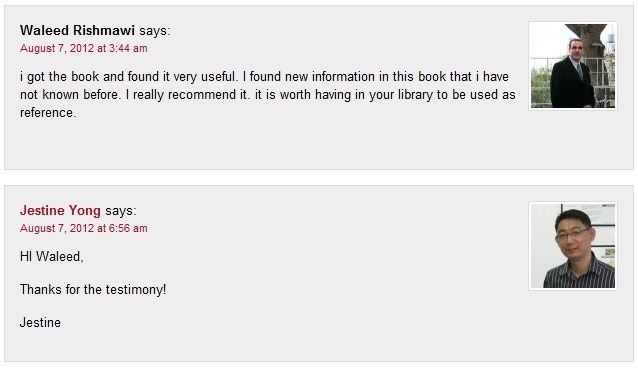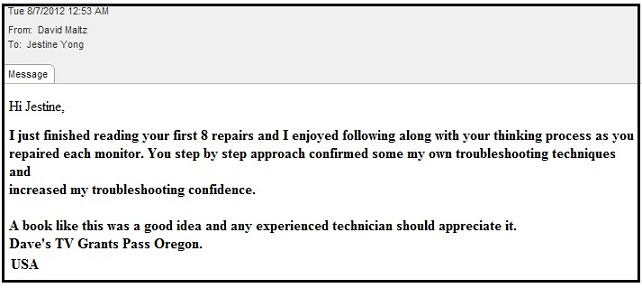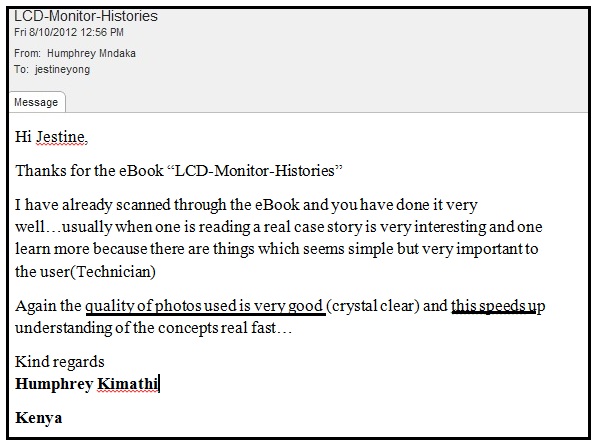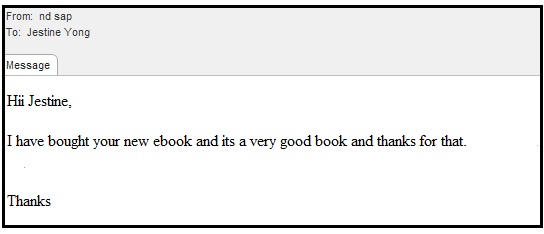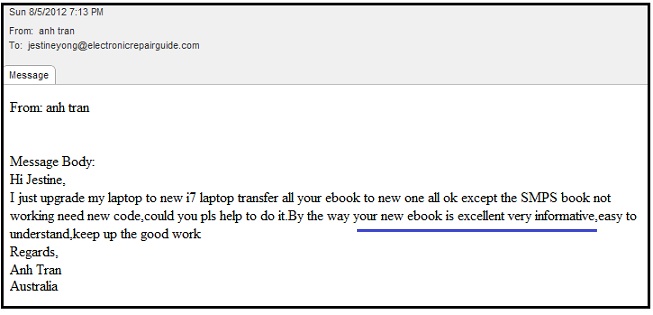 How Much Does It Cost?
Your one time investment is only USD15.95!

Product Details:

E-book Format: PDF file
Pages: 58 pages
Total Photo: 81 Photos
Language: English

Compatible with: PC, Laptop & MAC Computer

Price: $15.95 USD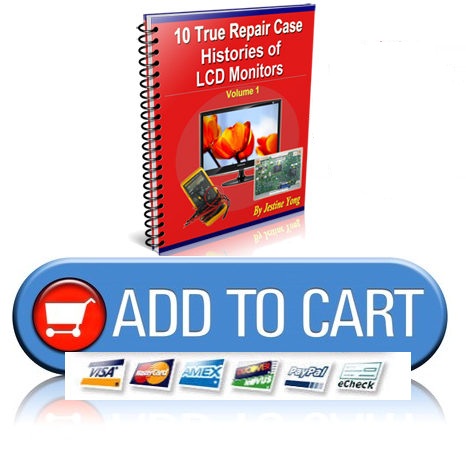 Order Online Now Through Our Secure Server
Instant Access-Online Download!
Dont worry! Take up to eight weeks to examine and use the information, tips and techniques in "10 True Repair Case Histories Of LCD Monitors" e-book. That's up to 60 days to put these valuable repair tips and problem solution to solve your LCD Monitor problem. I'm confident that you'll NEVER want to send it back! But, if you aren't satisfied for any reason, or it doesn't live up to your expectations, you won't be losing out at all. Just send me an e-mail and tell me the reason and I will refund the purchase price and it is right up to the final day of this 60 days guarantee!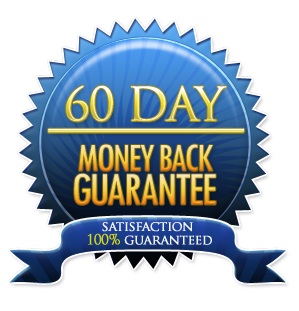 "Okay Jestine, I'm Convinced.
I Want This Ebook! What Do I Do Now?"
It's easy to order. All you need to do is just click on the "Order Now" button below, which will take you to the order page, and then you just enter your information in. The whole process only takes a minute or two. As soon as you have placed your order, you'll immediately be taken to a secret page (download page) where you can save the "10 True Repair Case Histories Of LCD Monitors" e-book in your computer. So you can print it out and bind it as a book for easy reference. And don't worry, downloading the information is a real snap. (It works perfectly with both MAC and PC computers).
There will be no shipping and handling because it's in the PDF file. That means you won't have to wait in order to begin using these repair information. You can be on your way to success in just a few minutes. Even if you have never downloaded anything from the Internet before, don't worry, it comes with instructions. This info-product is one-of-a-kind and not found in any bookstore!
Go ahead and click the "Order Now" button below. You will see what all the repair information is about. You'll get instant access to the entire e-book even if it's 3 a.m. in the morning.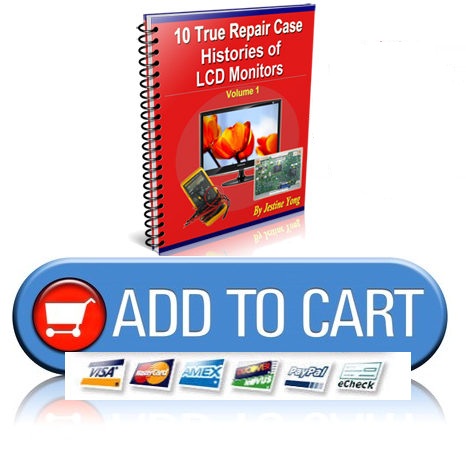 I look forward to getting a letter from you and telling me about your LCD Monitor repair experience. Even though I may receive a lot of mails, please do write to me. I'd love to hear your success story!
Happy Troubleshooting!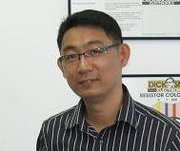 http://www.LCDMonitorCaseHistories.com
P.S. Don't forget with the purchase of my eBook you get my email support to help you with any question you may have on LCD Monitors. So act now!!!.Click below to order, so you can get started on repairing LCD Monitors right away!
P.P.S. Invest In Yourself! With just one LCD Monitor repaired,(with the help of my 10 True Repair Case Histories Of LCD Monitors) you would already get back your investment! This e-book will pay itself back many many times ever!
Thanks for visiting my website!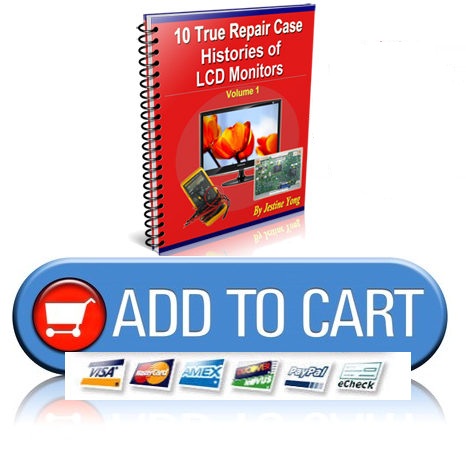 100% Safe and Secure
Order Online Now Through Our Secure Server
Instant Access-Online Download!